Sometimes we don't even think about certain codes of behavior that are reflective of our culture and language. We just know that a certain practice exists and accept it for what it is.
In this particular instance, it would be about how we tend to reference or refer to people when conversing. Sometimes it involves the use of a family clan name or perhaps even just a nickname. In other instances it may include a reference of someone's wife's, father's or mother's name.
Common/Popular Names
As you can see in the 1920 Census table below, many people share the same name. My preliminary data from the 1930 Census (to be published) suggests that most of these popularly used names are not much different.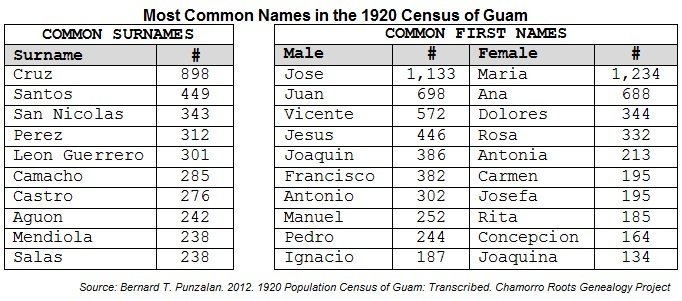 You can purchase a copy of the 1920 Population Census of Guam.
Which Maria, Ana, Jose or Juan are we talking about???
Laura Thompson documented a fairly good example of our Chamorro practice in 1932 citing some of Gertrudes "Trudis Alemån" Hornbostel's work of interviewing and document Chamorro customs. Below is snaphot of the text written (keep in mind that this was documented around 1920's through 1930's):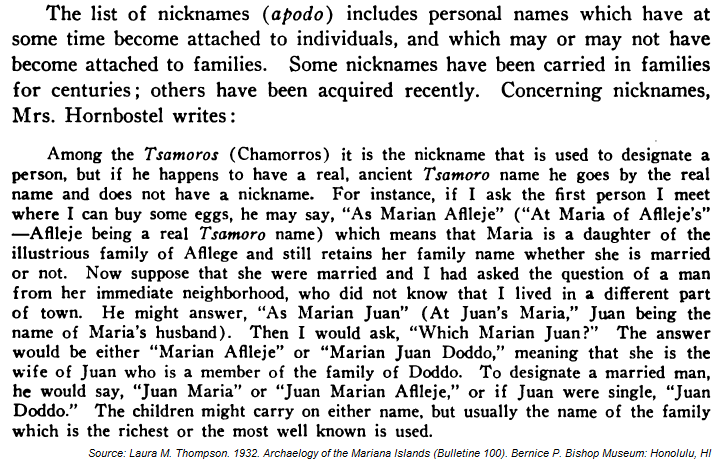 This type of protocol, for the lack of a better description, actually serves as a clue for those that may not be as fluent in the Chamorro language and culture; and particularly, for those currently researching Chamorro genealogy while reviewing funeral or obituary announcements or even when interviewing the manåmko. So I thought it might be useful for others to show some of these examples through actual funeral announcements.
During portions of the 1960's and earlier the media in many cases did not publish extensive genealogy details
as one would likely find today with funeral announcements. Typically, the media would only publish a list of vital statistics that listed marriages, births and deaths. The married couples would be named, the parents of the baby being born would be named and the person who died would be named.
If you died and were fairly well known in the community, there might be a small article announcing your death and perhaps even mention of when the burial would take place.
Sometime around the late 1960's and early 1970's, the Guam Daily News started publishing funeral announcements with slightly more detail. Some included a picture of the deceased, while did not. Only surviving immediate family members were listed, but again not as detailed as one might observe with today's announcement. Below I have provided three actual funeral announcements:
"Ben Chana,"

"Manuelan Kiko," and

"Anan Kin Baleto." The Baleto name reamins a clue for me right now, because I have not been successful in indentifying Tun Kin Baleto's ancestors.
Contemporary Funeral Announcements
These days we have the opportunity to provide much more family detail containing those who precede and survive the deceased. I find it somewhat of an art to craft a contemporary funeral announcement. In several cases, I have to look for potential clues within an announcement, because some announcements are designed with extreme discretion and some relationships of those named are not that obvious at all.
As a side note, when my father passed away in 2010, it was obvious that I was going to be the one to write his funeral announcement. So I drafted it, showed it to my mom, sisters, brothers, aunties and uncles for their feedback and prior to having it published. I was actually surprised to hear from some of my elders that I had too much information in my initial draft. For those who were sensitive to some of the information I scaled it down out of respect for their concern and until everyone agreed. During that entire process and sensitive family climate, I had also inadvertently left out that my father is Manggåfan (Familian) Che' and my Filipino grandfather, was known to many Manåmko (Chamorro elders) as Pansi.
So if you see some funeral announcements that may contain errors or inadvertent omissions, you can be sure that the family is not only mourning the death of their loved one, but they are also under a tremendous amount of stress to coordinate and host the rosaries, funeral arrangements, tend to the affairs of the deceased's estate and all other unfinished business that requires attention.
God bless them and everyone who has passed on.
References:
Bernard T. Punzalan. 2012. 1920 Population Census of Guam: Transcribed. Chamorro Roots Genealogy Project: Spanaway, WA

Bernard T. Punzalan. 2014. 1930 Population Census of Guam: Transcribed. Chamorro Roots Genealogy Project: Spanaway, WA

Judy Flores, PhD, ' Gertrude Costenoble Hornbostel', referenced January 24, 2014, © 2009 Guampedia™,




URL: http://guampedia.com/gertrude-costenoble-hornbostel/

Guam Pacific Daily News

Laura M. Thompson. 1932. Archaeology of the Mariana Islands (Bulletin 100). Bernice P. Bishop Museum: Honolulu, HI