Sifting through the 1900 U.S. Census in search of Chamorro people and their families so far has netted me 159 people. At the time, these people resided across three U.S. Territories: Alaska, Arizona and Hawaii; and two States: Washington and California. As a refresher, Guam, at least the civilian sector, was not included in the U.S. Census until 1920.
If you have read some of my previous articles, you might have noticed that some of the surnames may have been phonetically spelled and recorded in official documents. This continues to hold true for several of the surnames of those found in the 1900 Census.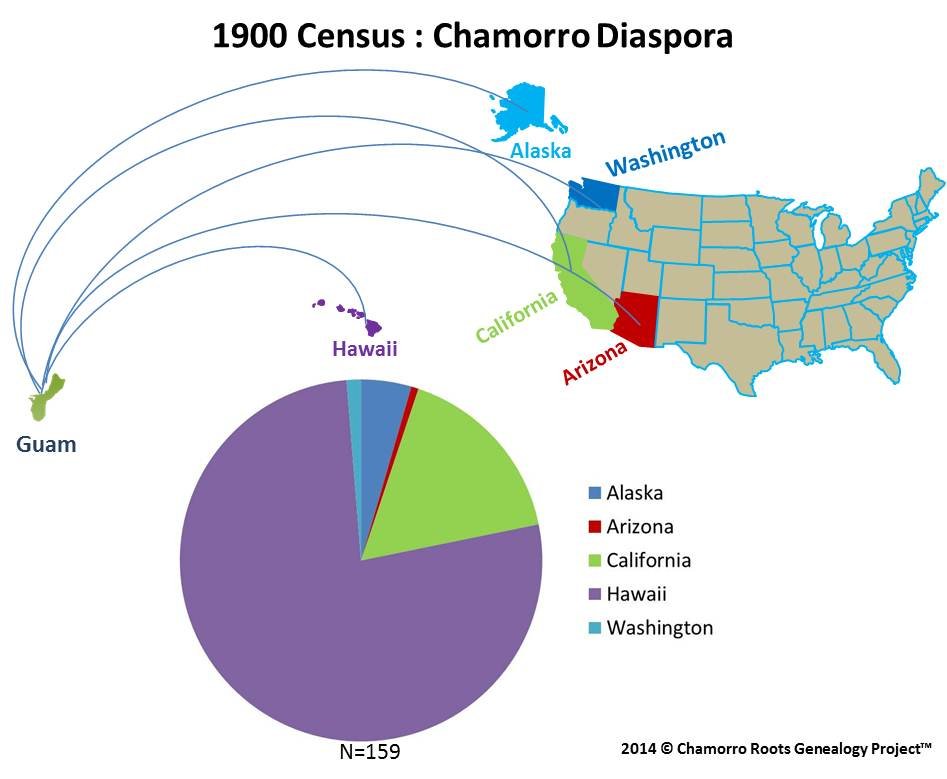 Alaska
I was quite surprised to find two people (one who had a family) living/working in Alaska. At Hunters Bay Cannery, Manuel Conception, age 33, was recorded as a Cook.
The other was John Fratis, listed as from the "Chamorro," Tribe and Clan, and a farmer at the age of 54. He was married to Ankeelena an Aleut, age 26. Together, they had four children living with them on Saint Paul, Alaska: Simeon (6), Agrafina (8), Uliana (4), and Martha (1). According to the Census document John Fratis arrived in Alaska sometime in March 1869.
Arizona
Only one person by the name of Enas Logan, single, age 24 was listed in Maricopa, Arizona with the occupation of "Day laborer." He immigrated to the U.S. sometime in 1888.
California
California had a total of 26 people with ties to Guam. Only two men were married, both to women of Mexican descent and no children. The five areas of California occupied were Almaden, Bodega, San Francisco, Soquel, and Ocean. Most of them were laborer of sorts, cooks long shoremen and fishermen.
Surnames found were Adriano, Castro, Ferran, Flores, Garcia, Gerrero/Gurreiro, Gumatata, Lasama, Logan, Lorindo, Martinez, Mazza, Mendiola, Oroso, Peres/Perez, Sauders, Yarrado
Hawaii
As expected, the Hawaiian Islands had the majority where I identified 120 people with ties to Guam. The four primary Hawaiian Islands occupied by these people were inclusive of:
Oahu (Honolulu and Ewa) – 66

Hawaii (Big Island) – 19

Maui (Makawao, Wailuku and Lahaina) – 23

Kauai (Koloa and Lihui) – 5
Men that had families married women primarily from Hawaiian or Portuguese descent; one man married a woman of Singapore descent while another had married a woman with origins from the Azores Islands.
Surnames were comprised of Arriola/Arreola, Castro, Cruz/Kruz, Duenas, Foster, Guerrero, Ignacio, Legama, Luhan, Pangelinan, Otis, Perez, Reys, Rose, Sanpos, Santos, and Tenora.
Washington
Only two men, both single, were found in Washington State. George August, age 66 was a farmer in Port Madison, Washington. He immigrated to the U.S. in 1860. While Domingo Blas, age 32, was a Sailor in Aberdeen Town and immigrated to the U.S. in April 1868.
Reference:
United States of America, Bureau of the Census. Twelfth Census of the United States, 1900. Washington, D.C.: National Archives and Records Administration, 1900.

[Click "READ MORE" below to view the names]

| | | | | | | |
| --- | --- | --- | --- | --- | --- | --- |
| Last Name | First Name | Marital Status | Color/Race | DOB | Place of Birth | Location |
| Fratis | John | M | Chamorro | Jun 1845 | Guam | St Paul Island, Alaska |
| Fratis | Ankeelena | M | Aluet | Unk | Alaska | St Paul Island, Alaska |
| Fratis | Simeon | S | Aluet | Feb 1894 | Alaska | St Paul Island, Alaska |
| Fratis | Agrafina | S | Aluet | Jun 1892 | Alaska | St Paul Island, Alaska |
| Fratis | Uliana | S | Aluet | Jan 1896 | Alaska | St Paul Island, Alaska |
| Fratis | Martha | S | Aluet | Feb 1899 | Alaska | St Paul Island, Alaska |
| Conception | Manuel | M | W | 1867 | Guam | Hunters Bay Cannery, Alaska |
| August | George | S | W | Dec 1834 | Guam | Port Madison, Washington |
| Blas | Domingo | S | B | Apr 1868 | Guam | Aberdeen Town, Washington |
| Castro | Peter | S | W | Feb 1858 | Guam | Soquel, California |
| Adriano | Joseph | S | W | Aug 1872 | Guam | Soquel, California |
| Perez | Joaquin | S | W | Oct 1880 | Guam | Soquel, California |
| Mendiola | Joseph | S | W | Jun 1872 | Guam | Soquel, California |
| Castro | Peter | S | W | Jan 1843 | Guam | Soquel, California |
| Castro | Manuel | S | W | Sep 1862 | Guam | Bodega, California |
| Ferran | Angel | S | W | Feb 1875 | Guam | Almaden, California |
| Lorindo | Cruzi | S | W | Jan 1870 | Guam | Bodega, California |
| Garcia | John | S | W | Feb 1875 | Guam | Bodega, California |
| Gerrero | Ben | S | W | 1877 | Guam | San Francisco, California |
| Gurreiro | Mariano | S | Guam | Mar 1860 | Guam | Bodega, California |
| Lasama | Benjamin | M | Guam | Apr 1873 | Guam | Bodega, California |
| Lasama | Alvarado E | M | W | Nov 1862 | Mexico | Bodega, California |
| Lasama | Joseph | S | Guam | Mar 1875 | Guam | Bodega, California |
| Oroso | Joseph | S | Guam | Apr 1875 | Guam | Bodega, California |
| Gumatata | Louis | S | Guam | Nov 1877 | Guam | Bodega, California |
| Logan | Frank | S | W | Apr 1874 | Guam | Soquel, California |
| Logan | Enas | S | W | Jun 1876 | Guam | Maricopa, Arizona |
| Martinez | Ben | M | Un | Apr 1856 | Guam | San Francisco, California |
| Martinez | Luciana | M | W | Unk | Mexico | San Francisco, California |
| Martinez | Nicholas | S | Un | Unk | Guam | San Francisco, California |
| Martinez | Peter | S | W | Jun 1875 | Guam | Soquel, California |
| Sauders | Joseph | S | W | Jan 1871 | Guam | Ocean, California |
| Mazza | Raymond | S | W | Nov 1868 | Guam | Ocean, California |
| Yarrado | Raymond | S | W | May 1872 | Guam | Ocean, California |
| Peres | John | Wd | W | Jun 1850 | Guam | Soquel, California |
| Flores | Joseph | S | W | Jan 1879 | Guam | San Francisco, California |
| Luhan | Pedro | M | Ca | Aug 1850 | Guam | Honolulu, Oahu |
| Luhan | Mary | M | H | Oct 1865 | Hawaii | Honolulu, Oahu |
| Luhan | Annie | S | H | Sep 1881 | Hawaii | Honolulu, Oahu |
| Luhan | Rose | S | H | Aug 1885 | Hawaii | Honolulu, Oahu |
| Luhan | Tammy | S | H | Nov 1890 | Hawaii | Honolulu, Oahu |
| Luhan | Ben | S | H | Aug 1888 | Hawaii | Honolulu, Oahu |
| Luhan | Joseph | S | Ca | Oct 1865 | Guam | Honolulu, Oahu |
| Luhan | Florense | S | H | Oct 1896 | Hawaii | Honolulu, Oahu |
| Luhan | Mary | S | H | Jul 1899 | Hawaii | Honolulu, Oahu |
| Arreola | Antone | S | Ca | Nov 1867 | Guam | Honolulu, Oahu |
| Foster | Ben | S | Ca | Jan 1870 | Guam | Honolulu, Oahu |
| Arriola | Antone | M | Ca | 1870 | Guam | Honolulu, Oahu |
| Arriola | Alice | M | Ca | May 1871 | Hawaii | Honolulu, Oahu |
| Arriola | Rofina | S | Ca | May 1891 | Hawaii | Honolulu, Oahu |
| Arriola | Emma | S | Ca | Dec 1892 | Hawaii | Honolulu, Oahu |
| Arriola | Alice | S | Ca | Aug 1894 | Hawaii | Honolulu, Oahu |
| Arriola | Louisa | S | Ca | Jan 1896 | Hawaii | Honolulu, Oahu |
| Castro | Joe | M | Ca | Oct 1872 | Guam | Honolulu, Oahu |
| Joshua | Rebecca | M | H | 1880 | Hawaii | Honolulu, Oahu |
| Cruz | Joe | Wd | Ca | May 1827 | Guam | Honolulu, Oahu |
| Kruz | Antone | Wd | Ca | 1838 | Guam | Honolulu, Oahu |
| Duenas | Joseph | Wd | Ca | Jan 1837 | Guam | Makawao, Maui |
| Duenas | Nasiko | S | PH | Dec 1881 | Hawaii | Makawao, Maui |
| Duenas | William | M | Ca | Jan 1841 | Guam | Makawao, Maui |
| Duenas | Marie | M | H | Mar 1850 | Hawaii | Makawao, Maui |
| Duenas | Mary | S | PH | Dec 1887 | Hawaii | Makawao, Maui |
| Duenas | Enis | S | PH | Dec 1889 | Hawaii | Makawao, Maui |
| Guerrero | Liwai | M | Ca | Feb 1839 | Guam | Honolulu, Oahu |
| Guerrero | Keamalu | M | H | Nov 1877 | Hawaii | Honolulu, Oahu |
| Guerrero | Reimundo | S | PH | Jun 1894 | Hawaii | Honolulu, Oahu |
| Guerrero | Felipe | S | PH | May 1896 | Hawaii | Honolulu, Oahu |
| Guerrero | Maria | S | PH | Mar 1898 | Hawaii | Honolulu, Oahu |
| Guerrero | Jose | S | PH | Jun 1876 | Hawaii | Honolulu, Oahu |
| Guerrero | Basilio | M | Ca | May 1840 | Guam | Honolulu, Oahu |
| Guerrero | Nicolansa | M | Ca | 1855 | Singapore | Honolulu, Oahu |
| Guerrero | Max | M | Ca | 1877 | Hawaii | Honolulu, Oahu |
| Guerrero | Mary | S | Ca | 1887 | Hawaii | Honolulu, Oahu |
| Kanamo | Annie M. | M | H | 1879 | Hawaii | Honolulu, Oahu |
| Kanamo | Sammuel | S | PH | 1899 | Hawaii | Honolulu, Oahu |
| Guerrero | Lisbeth | S | Ch | 1898 | Hawaii | Honolulu, Oahu |
| Guerrero | [not listed] | M | Ca | Dec 1861 | Guam | Honolulu, Oahu |
| Guerrero | Julia | M | PH | Dec 1836 | Hawaii | Honolulu, Oahu |
| Guerrero | Julia M | S | PH | Oct 1885 | Hawaii | Honolulu, Oahu |
| Guerrero | Rosa | S | PH | Mar 1886 | Hawaii | Honolulu, Oahu |
| Guerrero | Frank | S | PH | Feb 1889 | Hawaii | Honolulu, Oahu |
| Guerrero | Mariano | S | PH | Mar 1891 | Hawaii | Honolulu, Oahu |
| Guerrero | Joa Linai | S | PH | Feb 1892 | Hawaii | Honolulu, Oahu |
| Guerrero | Antone S.M. | S | PH | Jul 1897 | Hawaii | Honolulu, Oahu |
| Guerrero | Annie | S | PH | Nov 1899 | Hawaii | Honolulu, Oahu |
| Igacio | A. | M | Ca | Jan 1855 | Guam | Ewa, Oahu |
| Igacio | Maria | M | Ca | May 1870 | Portugal | Ewa, Oahu |
| Igacio | Maria | S | Ca | Aug 1885 | Hawaii | Ewa, Oahu |
| Igacio | Manuel | S | Ca | Mar 1888 | Hawaii | Ewa, Oahu |
| Igacio | Joe | S | Ca | Nov 1889 | Hawaii | Ewa, Oahu |
| Igacio | Cristina | S | Ca | Jul 1891 | Hawaii | Ewa, Oahu |
| Igacio | Eglaria | S | Ca | Oct 1895 | Hawaii | Ewa, Oahu |
| Igacio | Carry | S | Ca | Jun 1897 | Hawaii | Ewa, Oahu |
| Igacio | Lucy | S | Ca | May 1899 | Hawaii | Ewa, Oahu |
| Legama | Benjamin | M | Ca | Oct 1870 | Guam | Kawaihau, Kauai |
| Legama | Julia | M | Ca | Sep 1878 | Portugal | Kawaihau, Kauai |
| Legama | Charles | S | Ca | Jan 1897 | Hawaii | Kawaihau, Kauai |
| Legama | Louis | S | Ca | Dec 1898 | Hawaii | Kawaihau, Kauai |
| Luhon | Joseph | M | Un | 1830 | Guam | Koloa, Kauai |
| Luhon | Mary | M | Un | 1860 | Hawaii | Koloa, Kauai |
| Luhon | Joseph | S | Un | 1890 | Hawaii | Koloa, Kauai |
| Luhon | John | S | Un | 1892 | Hawaii | Koloa, Kauai |
| Ross | Joe | M | LL | 1845 | Guam | Honolulu, Oahu |
| Ross | Mary | M | H | 1871 | Hawaii | Honolulu, Oahu |
| Loss | Joe | Wd | LL | 1845 | Guam | Honolulu, Oahu |
| Rosario | John | M | LL | 1870 | Guam | Honolulu, Oahu |
| Rosario | Ida | M | H | 1872 | Hawaii | Honolulu, Oahu |
| Rosario | Lila | S | H | 1892 | Hawaii | Honolulu, Oahu |
| Perez | Joseph | M | Ca | Jan 1855 | Guam | Hamakua, Hawaii |
| Perez | Leleo | M | H | Oct 1852 | Hawaii | Hamakua, Hawaii |
| Perez | Joseph Jr. | S | PH | Oct 1880 | Hawaii | Hamakua, Hawaii |
| Perez | Kaleialii | S | PH | Jun 1882 | Hawaii | Hamakua, Hawaii |
| Haleilehua | Tho | M | H | Mar 1860 | Hawaii | Hamakua, Hawaii |
| Haleilehua | Kawailehua | M | PH | Sep 1879 | Hawaii | Hamakua, Hawaii |
| Haleilehua | Annie | S | H | Dec 1890 | Hawaii | Hamakua, Hawaii |
| Smith | Kwailohi | M | PH | Mar 1885 | Hawaii | Hamakua, Hawaii |
| Martin | Andrew | Wd | Ca | 1839 | Guam | Hamakua, Hawaii |
| Pangelinan | Ben | M | Ca | Dec 1843 | Guam | North Kohala, Hawaii |
| Pangelinan | Macrita | M | Ca | Aug 1864 | Azores | North Kohala, Hawaii |
| Pangelinan | Joaquin | S | Ca | Apr 1884 | Hawaii | North Kohala, Hawaii |
| Pangelinan | Maria | S | Ca | Dec 1885 | Hawaii | North Kohala, Hawaii |
| Pangelinan | Mary Ann | S | Ca | Mar 1888 | Hawaii | North Kohala, Hawaii |
| Pangelinan | Angelina | S | Ca | Dec 1889 | Hawaii | North Kohala, Hawaii |
| Pangelinan | Adeline | S | Ca | mar 1890 | Hawaii | North Kohala, Hawaii |
| Pangelinan | Lorcien | S | Ca | May 1893 | Hawaii | North Kohala, Hawaii |
| Pangelinan | Louis | S | Ca | Nov 1896 | Hawaii | North Kohala, Hawaii |
| Pangelinan | Carlos | S | Ca | Nov 1897 | Hawaii | North Kohala, Hawaii |
| Reys | Raymondo | M | Ca | Sep 1840 | Guam | Honolulu, Oahu |
| Reys | Mary | M | SS | 1869 | Hawaii | Honolulu, Oahu |
| Reys | Annie | S | SS | 1893 | Hawaii | Honolulu, Oahu |
| Reys | Valentine | S | SS | 1898 | Hawaii | Honolulu, Oahu |
| Calyhan | David | S | PH | 1888 | Hawaii | Honolulu, Oahu |
| Rose | Joe | S | Ca | 1852 | Guam | Lihue, Kauai |
| Sanpos | Joseph | M | SS | Mar 1839 | Guam | Honolulu, Oahu |
| Sanpos | Jinnie | M | PH | 1864 | Hawaii | Honolulu, Oahu |
| Sanpos | Nicholas | S | PH | May 1892 | Hawaii | Honolulu, Oahu |
| Santos | John | M | Ca | Jun 1835 | Guam | Makawao, Maui |
| Santos | Kahanui L. | M | H | Apr 1858 | Hawaii | Makawao, Maui |
| Santos | John R. | S | PH | Mar 1883 | Hawaii | Makawao, Maui |
| Santos | Agnes | S | PH | Aug 1886 | Hawaii | Makawao, Maui |
| Santos | Miguel | S | PH | May 1890 | Hawaii | Makawao, Maui |
| Santos | Frank | S | PH | Jun 1896 | Hawaii | Makawao, Maui |
| Santos | Jacob | S | PH | Jul 1892 | Hawaii | Makawao, Maui |
| Santos | Peter | S | PH | Aug 1897 | Hawaii | Makawao, Maui |
| Santos | Louisa | S | PH | Oct 1899 | Hawaii | Makawao, Maui |
| Santos | Antone | M | Ca | Sep 1844 | Guam | Wailuku, Maui |
| Santos | Jose | M | Port | Aug 1862 | Guam | Kawaihau, Kauai |
| Santos | Maria | M | Port | Apr 1874 | Portugal | Kawaihau, Kauai |
| Tenora | Jose | S | SS | Nov 1826 | Guam | Kawaihau, Kauai |
| Otis | Joe | M | Ca | May 1850 | Guam | Lahaina, Maui |
| Otis | Batiseka | M | H | Aug 1851 | Hawaii | Lahaina, Maui |
| Otis | Batiseka | S | PH | Dec 1885 | Hawaii | Lahaina, Maui |
| Otis | Ramon | S | PH | Feb 1889 | Hawaii | Lahaina, Maui |
| Otis | Rosie | S | PH | Jul 1882 | Hawaii | Lahaina, Maui |
| Otis | Anne | S | PH | Dec 1895 | Hawaii | Lahaina, Maui |
| Shaw | George | S | PH | Jan 1898 | Hawaii | Lahaina, Maui |