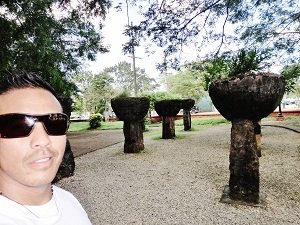 Dietrix Jon Ulukoa Duhaylonsod is from Honokai Hale, O'ahu, Hawai'i. He comes from a close-knit family of 7 children; his mother Frances "Tita" Villafuerte is from Mākaha on O'ahu's Wai'anae Coast, and his father Frederick Duhaylonsod is from Kahuku on O'ahu's North Shore. His CHamoru roots are from his mother Frances, who is the granddaughter of Soledad Leon Guerrero Balajadia and Juan Mesa Manibusan, manggåfan Bitut. Frances was also affectionately claimed a "reared daughter" by the late Tan Maria Manibusan Cepeda of Sinajana. And finally, he has one son, Ezra Koakūanoanoho'omaluhia Halu'uginapu Whalen living in Washington state.
Although he was born and raised in Hawai'i, he moved to Guam in 1998 to learn his Chamoru heritage. It was during those years that he was warmly taken by the hand, sat at the table, and profoundly taught his Chamoru roots by his manamko' and by his many cousins. He was welcomed and taught Fino' Haya by Siñot Peter Onedera. And he was welcomed by Frank Rabon to learn as a member of Taotao Tano', and later, welcomed by Leonard Iriarte to learn as a member of Guma' Palu Li'e', now called I Fanlalai'an.
In 2003, he moved back to Hawai'i where he went back to school. He graduated with a Bachelor's Degree in Anthropology, a Bachelor's Degree in Ethnic Studies, and a Certificate in Hawaiian Language at the University of Hawai'i at Mānoa. He is currently in the Master's Degree program at the University of Hawai'i's Center for Pacific Island Studies, but has put that on hold due to his full time occupation as the Senior Archaeologist and Ethnographer at the Keala Pono Archaeological Consulting firm. Regarding the field of CHamoru archaeology, he has been mentored and taught by Dr. Mike Carson and Dr. Jim Bayman. Outside of work his hands are full as the Kumu of Hālau Kiawekūpono O Ka Ua, through which he has dedicated his life to cultural preservation and the facilitation of cross-cultural appreciation. Beyond that, his commitment to social justice and Indigenous rights has sent him to the United Nations and around the world many times.
It is a blessing and honor to have Dietrix join the Chamorro Roots Genealogy Project as a collaborator kicking off the Hawaiian Translation Project by offering his services to translate some historical articles published and written in the native Hawaiian language that are tied to the history of the Mariana Islands and CHamoru people.