Home
Details

Written by

Bernard Punzalan
(Special Thanks to Elizabeth Martinez Bitanga for donating this book to the CHamorro Roots Genealogy Project archives.)

Department of Chamorro Affairs, Division of Research, Publication and Training Staff
I Manfayi: Who's Who in Chamorro History Volume I (Hale'-ta Series), 1995. I Manfayi (ee-man-fajee)…those who have wisdom. It describes people who used their knowledge to decide their actions. When someone is said to be fayi, it infers that he or she did or said something that benefited others in some way.
Dr. Katherine Bordallo Aguon is credited with having initiated this first volume of the I Manfayi Hale-ta Series.

Over 62 names appear in Volume I:

Ada, Josef Martinez
Aflague, Vicente Torres
Aguarin
Aguon, Juan Unpingco
Artero, Antonio Cruz
Barcinas, Jesus Cruz
Baza, Ramon Sablan
Blas, Dominga Ogo
Blas, Segundo Duenas
Bordallo, Baltazar Jerome
Bordallo, Paul Joseph
Bordallo, Ricardo Jerome
Butler, Ignacia and Chester
Calvo, Eduardo Torres
Calvo, Oscar Lujan
Camacho, Carlos Garcia
Camacho, Simon Rivera
Castro, Josefa Guzman
Cepeda, Annette Cabrera
Concepcion, Joaquina
Crisostomo, Jesus Meno
Cristobal, Adrian (Nito) Loreto
Cruz, Pedro Guerrero
Duenas, Emeteria Quichocho
Duenas, Jesus Baza
Flores, Joseph
Hineti, Ignacio
Hurao
Johnston, Agueda Iglesias
Kepuha
Read more: I Manfayi: Who's Who in Chamorro History Volume I (Hale'-ta Series), 1995
Details

Written by

Bernard Punzalan
Laura Marie Torres Souder, Ph.D., Daughters of the Island: Contemporary Chamorro Women Organizers on Guam, 2nd Edition, 1992.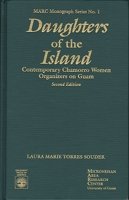 "…This record of the lives of nine Chamorro women, their coping strategies and resolution of personal conflicts, can serve as both inspiration and role model for Chamorro Women attempting to make personal decisions which deal with the contradictions that so often become a source of frustration and lack of fulfillment…"

"The meaning given to the contributions and struggles of these women must continuously be re-analyzed as we move towards self-determination as a people. We are challenged as never before about what to do with the land and our rapid alienation from it.  We are faced with the challenge of educating a generation of men and women who must have a sense of respect towards equal partnerships in which the code of machismo or inequality must somehow take a backseat if we are to survive with dignity and with a sense of peoplehood…"

There is very little documented specific history of our Chamorro women, yet they remain the very core of why our Chamorro people and culture remain in existence.  Dr. Souder's book offers a keen perspective and balance of this oversight and how some Chamorro women have made significant impact on Guam. I hope that this book and the like would inspire others to write more about our Chamorro women! Many excellent articles on our Chamorro women can be also found on www.GuamPedia.com.
The nine Chamorro women listed in this book include:
Bamba, Cecilia Cruz
Gould, Clotilde Castro
Lujan, Pilar Cruz
Pearson, Carmen Leon Guerrero
Roberto, Annie Pangelinan
Arriola, Elizabeth Perez
Blas, Ernestina Tenorio
Gutierrez, Geraldine Torres
Hiton, Delgadina Perez
Details

Written by

Bernard Punzalan
Today the GuamPedia.com has published a transcribed Vital Statistics of Guam from 1823. Click on the link below to access the link and text:
http://guampedia.com/1823-guam-vital-statistics-report/
Guampedia, Guam's Online Encyclopedia, is a community project to create a comprehensive online encyclopedic resource about the history, culture and contemporary issues of Guam.
Guampedia Foundation, Inc. is an independent non-profit organization. The creation of Guampedia was funded through grants from the National Endowment for the Humanities, Guam Preservation Trust, the Bank of Guam, the U.S. Department of the Interior, and other sources. The project was founded by the Guam Humanities Council in 2002. In 2009 a new non-profit organization, Guampedia Foundation, Inc. was incorporated and Guampedia became independent of the Council.
Please support Guampedia with your donations to keep it publicly on line!