Home
Details

Written by

Bernard Punzalan
To date, one of the oldest Bayinero (Chamorro Whaler) I have been able to find a record on is a gentleman by the name (allegedly) Benjamin Coring. It's actually quite difficult to really make out and determine exactly what the enumerator recorded for his last name and Ancestry.com's transcription.

But I do concur with the transcription that Benjamin was married, died on 10 May, 1869, at the age of 70 (making his estimated year of birth 1799). The cause of death was listed as "Consumption," which I have recently learned was a term back in the 1800's that was usually referred to Tuberculosis. Benjamin was a resident of New Bedford, Massachusetts and his occupation was listed as a Seaman.
Ancestry's transcription recorded his place of birth as "Guam, London Islds," but based on the original handwritten entry it should have read at least "Guam, Ladrone Isles." Also, there was a column in the record to list his parents' name but was left blank; however, their birth place was recorded as Guam.
Wish me luck on trying to find his family that may have survived him.
Bibliography
Ancestry.com. Massachusetts, Death Records, 1841-1915 [database on-line]. Provo, UT, USA: Ancestry.com Operations, Inc., 2013.
Details

Written by

Bernard Punzalan
Help us help you and your family remember YOUR NAMES and honor YOUR stories!
We are still collecting stories from Chamorro's living abroad to incorporate into the Chamorro Diaspora seminar that I will facilitate during the Festival of Pacific Arts (FestPac) May 22, 2016 - June 4, 2016.
Here are some ideas we suggest to help you put together your story :
• Name and family name (clan name if known too)
• Which village and island the person/family originates
• Accomplishments while at home
• When did the person/family emigrate?
• What was the impetus for leaving?
• Accomplishments while away from home?
• How many generations/descendants since the person/family's arrival?
• Name, phone number and email of person submitting the biographical information
• Include family photos
Please email your story and photos to: This email address is being protected from spambots. You need JavaScript enabled to view it. .
Please send as soon as possible to ensure we incorporate and memorialize your story! Si Yu'os Ma'ase.
...or let us help you write your story with any of our Chamorro Diaspora Project Team members:
Bernard Punzalan
Mario Borja
Trish Shook
Vince Diaz
Here's a simple sample two-page story: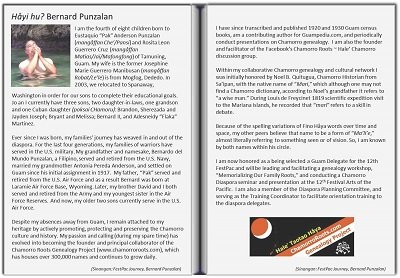 Details

Written by

Bernard Punzalan
Håfa Adei!
I just wanted to let everyone know that I will be attending the Festival of Chamorro Arts (FoCHA), Saturday, January 16, 2016 in San Diego, CA. I will be selling some items as part of my fundraising for the Festival of Pacific Arts (FestPac) on Guam in May 22- June 4, 2016.
At FoCHA, I will be conducting a Chamorro Roots Genealogy Project Workshop that promptly starts at 3:30pm! So please if can, come by and learn to navigate the Chamorro Roots website as well as experiencing the demonstration of these cool genealogy E-Books!
I will be offering this FoCHA Tengguang Special at a deeply discounted price. Hope to see you there!