Home
Details

Written by

Dietrix Jon Ulukoa Duhaylonsod
Protestant missionaries from New England came to Hawai'i in 1820, and they were the ones who introduced the English language to Hawaiians. Evidence strongly suggests that within a decade, around 90% of the native population could read and write using the English alphabet. By the turn of the century there were numerous Hawaiian language newspapers in Hawai'i.
As part of the Chamorro Roots Genealogy Project, the Hawaiian language newspaper archives are being searched for articles which mention Guahan, the Marianas, and the CHamoru people. As they are discovered, we will be introducing these Hawaiian language articles, published in Hawai'i from the mid-1800s to the early 1900s. The transcription and translation of these historical articles are primarily being led by Dietrix Jon Ulukoa Duhaylonsod, manggåfan Bitut (Balajadia/Manibusan).
While the focus is on our CHamoru people, heritage, and history, it is important to keep in mind our participation in the larger Pacific picture. The Marianas and the CHamoru people are but one important part of a very interconnected Oceanic history, not confined by the later-imposed, foreign-fabricated boundaries called Micronesia, Polynesia, and Melanesia. As the whaling ships and trading ships came to the Marianas, so did they go to other Pacific ports. As CHamorus went off to become sailors, so did natives from other Pacific Islands. As CHamorus jumped ship and settled in other lands, so did other islanders jump ship in a similar fashion. Typical discussions regarding the era of early contact always focus on the interaction between White foreigners and Native islanders. But what about the interactions of the various Pacific Island peoples, encountering each other while collectively navigating around the Western intrusions? What was the nature of these intra-Pacific indigenous interactions?
Beyond the books about CHamoru history in our libraries, there are other sources of information that might support what we believe; or might add more details to what we already know; or these other sources might open new doors of understanding that we have not yet considered.
May Santa Marian Kamalen, Santo Niñu, and our ancestors sound the kulo' in our consciousness to always guide our understandings in the right direction.
Biba Taotao Latte! Si Yu'us fan binendisi todu-hit.
Details

Written by

Bernard Punzalan
Earlier today on FaceBook was a request if anyone knew the names of midwives that resided in Agat between 1930 and 1940. I was able to extract this list from the 1920 Census with those who were listed with an occupation of Nurse, but could not find anyone listed with that occupation in the 1930 Census for the village of Agat. The transcription of the 1940 Census is still ongoing so I don't have those details just yet; however, I do know that several Chamorro Nurses were recorded in the 1940 Census at Naval Hospital.
Details

Written by

Bernard Punzalan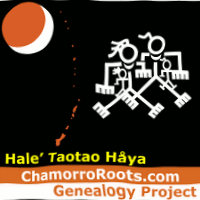 As you can see the front page of the site has changed. Many system upgrades to keep up with coding technology have been applied and are still being worked. There are a few things that may not work, which leaves us with two possibilities: 1) I am still making changes and troubleshooting the new upgrades; or 2) You may need to clear your cache on your internet browser. Either way, you may need to come back later to try and access the features.
Appreciate everyone's patience, as I continue to work on the upgrades and tweaking. I needed to implement this as soon as possible because, many things on the previous system did not allow for system upgrades, which caused several technical issues and challenges.
I'm not the young nerdy coder I use to be with a lot of patience. What use to take me no more than a week now seems to take six months to a year or two! LOL
Anyways....Merry Christmas!